Mike and Kim Burge owners/managers
Mike was born and raised in Valentine and graduated from Valentine High School. Kim was raised on a cattle ranch north east of Onida, in central South Dakota, and graduated from Sully Buttes High School. Kim grew up with 4-H, Rodeo and ranch work. Kim attended Brown Institute of Broadcasting in Minneapolis where she received her first class broadcasting license. Mike attended Kearney State College.
Mike started part time at KVSH in 1977 while in high school. Kim's first position after college was at KVSH. Oddly enough Mike was the only person at KVSH that manager Larry Russell did not introduce Kim to. Then they accepted positions at KWAT in Watertown SD. Mike also worked at KWYR in Winner SD before returning to KVSH in 1982 when offered a position as news director and announcer. Along the way Mike learned play-by-play, news writing and engineering work to add to announcing.
Mike and Kim are especially pleased that all three of their children have returned to live in Valentine bringing 4 granddaughters with them.
They look forward to serving and promoting the area with integrity, honesty and a positive attitude. Along the way they hope to have a little fun as well.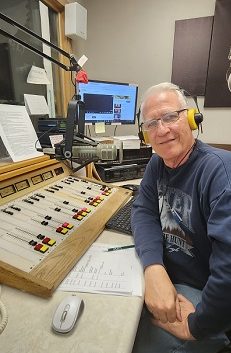 Hanna Barker
Hanna started at KVSH in July of 2022 as the office manager. Hanna grew up in Gordon and moved to Valentine in March of 2022 for her husband Jacob's job.
Rhondelle Emery has many talents. One that she shares with us is part-time announcer. 
Zachary Dean-
Zach has worked for many years at KVSH. Zach is a bit of a "utility player" for Heart City Radio, broadcasting afternoons, and serving in other capacities, including sales and some engineering, and recently being given the title of "news director."