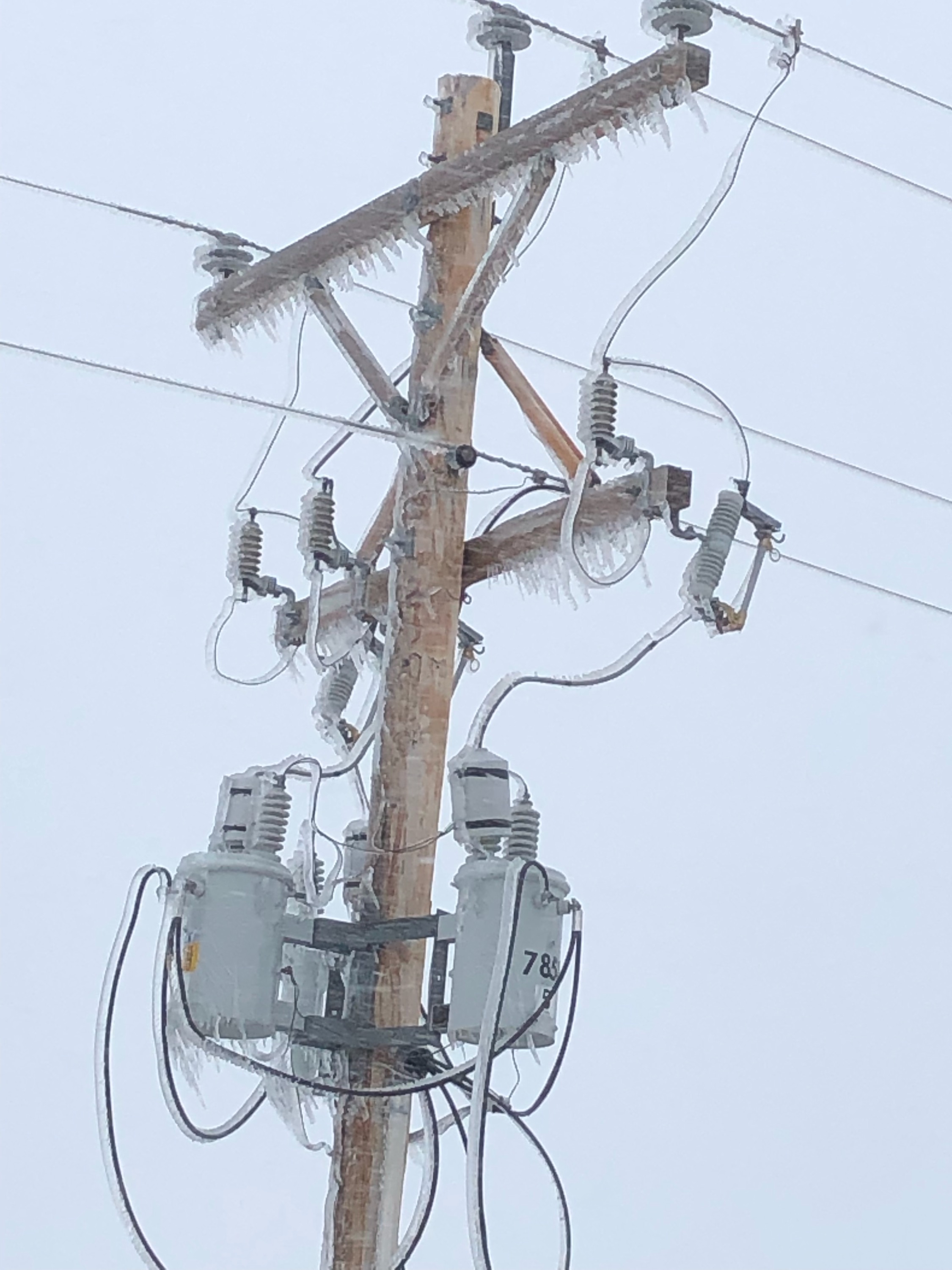 Picture from the Kilgore area, where crews continue to battle to restore power. Courtesy of Mark Johnson.
Valentine picked up somewhere around 7 inches of snow as of Thursday morning, but the blizzard warning remains in effect through Friday morning with up to an additional 8 inches of accumulation could fall on the area. Cherry Todd Electric and KBR Rural Public Power customers lost power, and KBR continues to work on widespread outages affecting customers from Valentine to Cody, and south of Valentine to the Marsh Lake substation. As much as 18 inches fell in parts of South Dakota in the Black Hills, but even the Norris area was reporting close to 15 inches (according to weather.gov).
No travel is being advised on most roads, with I-90 closed in South Dakota from Sioux Falls to Rapid City, I-29 closed north of Sioux Falls, and I-80 closed from Kearney to the Wyoming State line in Nebraska. Latest conditions are available here: https://www.safetravelusa.com/
The storm knocked out power to thousands of homes and businesses in South Dakota, also affected power lines in Nebraska, disrupted air and ground travel from Colorado to Minnesota, and threatened to swell rivers in the Midwest that flooded after March's drenching.
Both this and the past storm are known as a "bomb cyclone," a weather phenomenon that entails a rapid drop in air pressure and a storm strengthening explosively, according to David Roth, a forecaster at the National Weather Service's Weather Prediction Center in Maryland.
The latest storm's impacts are likely to be similar to last month's storm, Roth said. That blast dropped heavy snow and led to massive flooding in the Midwest that caused billions of dollars in damage in Nebraska, Missouri, Iowa and South Dakota. Forecasters said this week's storm will swell rivers again, though likely not to the levels seen last month due to the absence of a wet snowpack on frozen ground this time around.
"We're calling it historic because of the widespread heavy snow. We will set some records," said Mike Connelly, a weather service meteorologist in Aberdeen, South Dakota.
An unusual but not rare weather phenomenon known as "thunder snow" — snow accompanied by thunder and lightning — was reported as well.
Nebraska Gov. Pete Ricketts extended five weather-related executive orders until May 15 to help communities gain fast access to the state's emergency resources. Minnesota Gov. Tim Walz said "the National Guard stands ready" to rescue any stranded motorists.
Story in part from the Associated Press.
Top picture courtesy of Martin DeNayer
Update: Some of the reported snowfall amounts
SNOWFALL TOTALS FROM WEATHER.GOV
03:00 pm CDT – 4/12/2019 WALLACE, SD 30.8
09:09 am CDT – 4/12/2019 2 SSE TERRY PEAK, SD 30
10:42 am CDT – 4/12/2019 1 N DEADWOOD, SD 29
07:09 am CDT – 4/12/2019 WHITE RIVER, SD 26
07:30 am CDT – 4/12/2019 LEAD, SD 24.4
12:02 pm CDT – 4/12/2019 4 NW PARMELEE, SD 24
09:00 am CDT – 4/12/2019 KADOKA, SD 20.1
06:00 pm CDT – 4/11/2019 MITCHELL, SD 16.5
08:00 am CDT – 4/11/2019 41 S ELI, NE 16
08:00 am CDT – 4/12/2019 2 SW NORRIS, SD 15
10:01 am CDT – 4/12/2019 MURDO, SD 14.3
08:00 am CDT – 4/12/2019 1 NE KILGORE, NE 13.6
08:00 am CDT – 4/11/2019 3 SW CHADRON, NE 12
09:30 am CDT – 4/12/2019 1 NW MULLEN, NE 10
07:00 am CDT – 4/12/2019 5 WSW STAPLETON, NE 10
09:00 am CDT – 4/11/2019 WSW THEDFORD, NE 8.8
12:00 am CDT – 4/12/2019 AINSWORTH, NE 8
01:07 pm CDT – 4/11/2019 VALENTINE, NE 7.3