The Lick Tub Challenge at the Sandhills Ranch Expo in Bassett has given out top awards. This event is hosted by the NC RC&D and is the second year for the event at the Expo. The creativity
is appreciated by the crowd and the judges. The rules? Find a new purpose for a used lick tub. No issue finding empty lick tubs and apparently not a shortage of creative ideas either.
From the start, all entries won, receiving a T-Shirt. The T-Shirt's were donated by Anson's FEED and Trucking in Atkinson. Taking first place for Youth- Home Category is Nessie, a boat created by John Connell from Long Pine. The first place $100 prize was donated by Vitalix, Travis Schauda of Broken Bow. Winning the Youth- Commercial Category is Flower Power by the Reed Children from Montana. Their first place prize money was donated by Dan Dailey at Long Pine Feed Service in Long Pine.
For the Adult- Home Division, the Front Entry by Janette Duffield, of Norden, took first place. RIOMAX, Shane & Karen Keller of Valentine put up the prize money and the Adult Commercial Category, an actual working Fountain by Kaylee Hanson of Valentine. Again, Travis Schauda with Vitalix in Broken Bow donated the $100 cash prize for Kaylee.
There is also an opportunity for the public to get involved by voting for their favorite entry from any class for People's Choice. Jenna Hanson's Daisy the Sheep received the most votes taking home the $125 cash prize. Scott Ruzicka of Verdigre with Suther Feeds, Inc donated the cash prize for the People's Choice Award.
The NC RC&D would like to say thank you to the judges, Sandhills Ranch Expo and all the prize sponsors.
NC RC&D challenges everyone young and older, male or female to start thinking about developing their ideas for next year's challenge. The projects have been seen at county fairs for 4-H projects and could qualify for other contests as well. So get to thinking.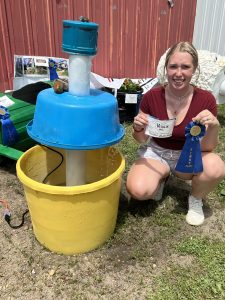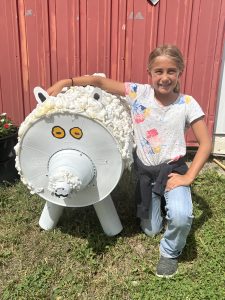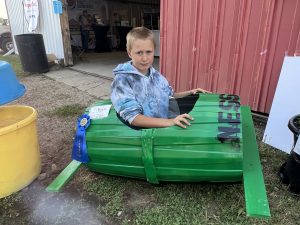 Kaylee Hanson with her fountain.                            Daisy the sheep with a happy Jenna Hansen.        John Connell demonstrating how Nessie the Boat glides.