The 31st Annual Cherry County Hospital Foundation Golf Tournament was held Thursday, June 8th at Frederick Peak Golf Club and raised $18,777.00! The goal of this year's fundraising campaign is to raise funds for an upgraded Safe Place Infant and Pediatric Security System for Cherry County Hospital. Keeping newborns and children safe and ensuring a secure, welcoming environment for families is the most basic function of patient security. The Safe Place Security System does just that by protecting our smallest patients, giving families' peace of mind, and reducing the risk of abduction through safe and reliable exit monitoring for patients wearing these small, lightweight transmitters.
The Cherry County Hospital Foundation would like to say a huge thank you to the local and corporate sponsors who provided monetary and/or raffle donations or sponsored a team. This tournament continues to be a success because of the generous donations from our community and business partners. A special thank you to Frederick Peak Golf Club for hosting the tournament once again.
Team Sponsors – Beckenhauer Construction, CapRock Ranch, Cherry County Hospital, Cherry County Hospital Physical Therapy, Healthcare Triangle, Heartland Business Systems, Huskerland Communications, Isom Agency, KVSH, MARC Air, Nelsen Furniture, Olson Group, Sandhills Home Improvements, Sandhills State Bank, Security First Bank, The Grumpy Old Men, Union Bank Ag, Union Bank & Trust, Wickett Construction.
Local & Corporate Sponsors – Larsen Vet, Peppermill & EKV Lounge, Sandhills Family Dental, Allo Communications, Ameriprise, Andrew Johnson, Arganbright Law Office, Baird Holm, Bank of the West, Bird Dog Enterprises, CapRock Ranch, Cherry County Implement, CMBA Architects, Danielski Harvesting, Eide Bailly, Fasthealth Corporation, General Collection, Healthcare Triangle, Heart City Drug, Heartland Country Real Estate, Integrity Management, Jay Hollenbeck, KVSH, LB Johnson, Nielsen Insurance, Office Products, Pathology Services, Peterson Beel, LLP, Pinnacle Bank, Prairie Health Ventures, S. Rourke Springer, TK Angus, Tehrani Motors, Tim Henderson, Valentine Dental Clinic, Wickett Construction.
Hole-in-One Sponsor – Peppermill & EKV Lounge
Shotgun Sponsor – Peterson Beel, LLP & Farm Bureau Insurance – Jay Hollenbeck
Lunch Sponsor – Dam Cattle & Arganbright Law Office
Raffle & Prize Donations – American Family Insurance, Ameriprise/Talia Benson, Arganbright Law/Dam Cattle, HomeTown Lumber, Bolo Beer, Bomgaars, Broken Spoke Boutique, Budweiser, CDW Healthcare, Cherry County Hospital, Cherry Street Nursery, Flowerland, Frederick Peak, Great Plains Regional Medical, Henderson's IGA, Hoebe's Smoke N Meats, Janine's Flower Exchange, Kent's Auto Detailing, Meditech, Office Products, Old Mill, Outback Screen Printing, Peppermill & EKV Lounge, Radiant Systems, Sandhills Family Dental, Scotty's Ranchland, Security First Bank, Subway, Sweet Aura, The Prairie Club, Tony's Tire, True Value, Ward's Plumbing & Heating.
Golf Results –
18 teams participated in this year's tournament; a 3-person team best shot tournament. The winner of the Cherry County Hospital Foundation's 31st Annual Golf Tournament with a score of 60 was once again Team MARC Air consisting of AJ Abbott, Michael Frickel, and Nick Larsen.
Championship Flight – 1st Place – MARC Air, 2nd Place – Beckenhauer Construction, 3rd Place – Union Bank Ag
First Flight – 1st Place – The Grumpy Old Men, 2nd Place – Isom Agency/KVSH Radio, 3rd Place – Olson Group
Second Flight – 1st Place – Sandhills Home Improvement, 2nd Place – Sandhills State Bank, 3rd Place – Healthcare Triangle
If you would like to donate to the foundation, donations can be sent to: Cherry County Hospital Foundation, 510 N. Green Street, Valentine, NE 69201
Championship Flight Winner: "Team MARC Air" (Pictured, left to right, AJ Abbott, Michael Frickel, Nick Larsen)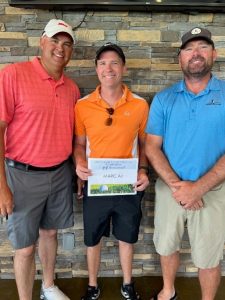 Championship Flight Winner: "Team MARC Air" (Pictured, left to right, AJ Abbott, Michael Frickel, Nick Larsen)