The Heart of Christmas Celebration was held Saturday in Valentine. Many events were held at the Cherry county Fairgrounds after the Parade Of Lights.
In the Christmas Tree decorating competition
1st place- Lady Wranglers
2nd- 4-H
3rd Presbyterian Church
The Non ugly Christmas Sweaters contest:
12 under Shylee Gonzalez, 2nd Addie Sexson
13 up 1st Shirley Kime, 2nd Janet Cady
Family: 1st Leonard Cousin Squad
2nd Rhea Family
Parade of Lights Results
Float:
1st Clauses and Reindeer
2nd Santa Loves 4-H
3rd KVSH Radio
Individual:
1st Lehmkuhler Family- lit up Jeep Wagoneer
2nd Sexson Family- lit up horse and buggy
3rd Tom Davis- Cushman vehicle and trailer.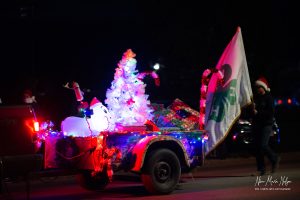 *All photos provided by Nina Nelsen at NightLight Photography