Winning quilts (left to right):  1st-Dorothy Duerfeldt; 2nd-Brenda Hoefeldt; 3rd-Carol Luther
The Bull Bash People's Choice Quilt Show was held February 8, 2020 In Valentine, NE, along with all the wonderful festivities that made Bull Bash such a huge success. Over 139 people voted for their favorite quilts at Nelsen's Furniture on Main Street from the 21 quilts on display and viewed the wonderful 10 quilt tops that the 4-Hers brought for exhibition. Dorothy Duerfeldt won first place with her paper pieced star; Brenda Hoefeldt won 2nd place with her pheasant quilt and Carol Luther won 3rd place with her red, white and blue quilt. The Bull Bash Committee donated Chamber Bucks for the first, second and third prizes. Please consider bringing your quilt next year. The show is open to everyone and they would love to display any antique to modern quilts that the community members have made. Thank you to all those who helped to make the quilt show such a successful and enjoyable event. Thanks to Nelsen's furniture for such a wonderful environment in which to show our quilts.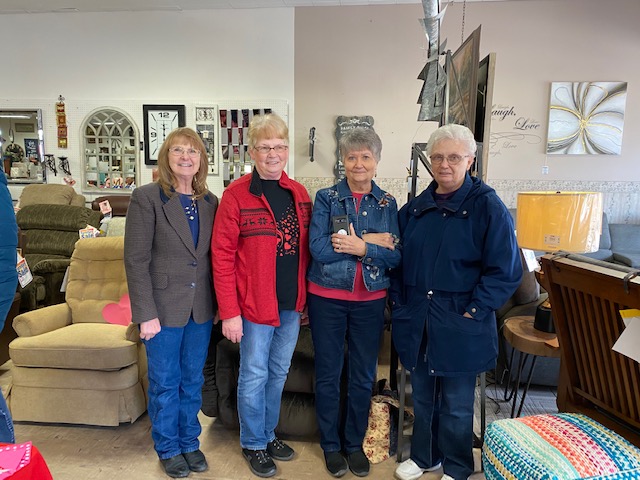 Picture of helpers at Quilt show, Debby Galloway, Carolyn Wickett, Carol Luther and Bev Kockrow.  Those not pictured: Shirley Schuman, Nicole Garwood, Rhonda Cherry.